Last Updated on January 16, 2023 by Tabraiz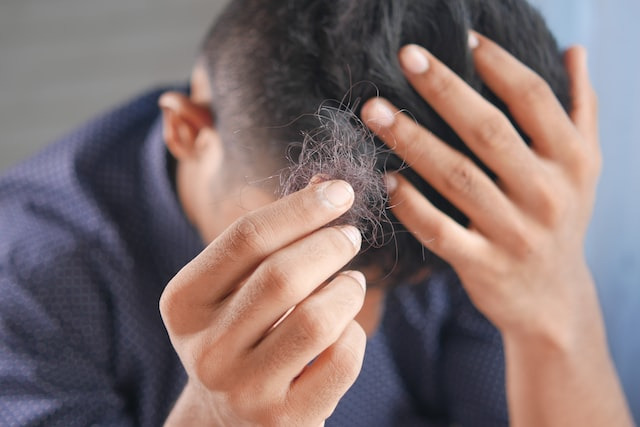 Hair loss is a common problem among the elderly, but you could start losing your hair sooner than you expect. Premature hair loss can affect both men and women and may be caused by genetics, lifestyle habits, or other factors. If you are worried about hair loss or have already started to lose your hair even though you haven't yet reached your golden years, here are a few things that you can do to prevent or at least slow the process.
1. Pay Attention to What You Eat
Nutrition is a key component of all aspects of health, and the foods that you eat can definitely have an impact on your hair growth. Hair loss is often caused by vitamin and mineral deficiencies, so you'll want to eat foods that are high in magnesium, iron, and biotin (vitamin B7) along with other nutrients that help promote better hair growth. Fried foods as well as foods that are high in sugar, hydrogenated oils and other ingredients that are known to trigger hair loss should be limited.
Some of the best foods for combatting hair loss include spinach, lentils, and bok choy, which are high in iron and other nutrients that promote better hair growth. If you enjoy seafood, you can satisfy your craving for fish and keep your hair strong and healthy by eating salmon and halibut. Other good foods for preventing or slowing hair loss include Greek yogurt, red peppers, and oranges.
2. Be Mindful of Your Fabrics
You might not think too much about the fabrics in the clothes, towels, and sheets that you use, but certain fabrics can lessen or worsen hair loss. Cotton can break hair strands and increase hair loss, and this could be especially problematic if you sleep on a cotton pillowcase. Synthetic fibers that have rough textures can also damage hair.
Silk and satin are among the best materials for preserving hair, and you may prevent or experience less hair loss if you use a pillowcase that's made from one of these materials. Towels that are made from ultra-soft microfiber material can also be better for your hair.
3. Apply Specially Formulated Products
Certain hair care products have been formulated to prevent hair loss and possibly restore hair. Some of the best products are made to block the dihydrotestosterone (DHT) hormone, which is linked to hair loss. These products may also contain Shea butter, citrus oil, and other herb and fruit extracts that are good for hair health.
You can order a hair loss serum and apply a few drops of it to your hair once or twice a day if you want to restore your hair. Shampoos and conditioners that are formulated to promote better hair growth are also available.
4. Consider Modifying Your Hairstyles
The way that you style your hair could be causing you to lose your hair faster. If you want to prevent or slow premature hair growth, you should avoid styling your hair in a bun, a ponytail or another style that pulls and stretches hair strands. Wearing hair extensions and weaves can also result in more hair breakage. Hair dyes and other harsh synthetic chemicals may further damage hair.
If you want to style your hair, you should choose a looser style that won't pull on your hairline. It's also best to change your hairstyle at least every few weeks to reduce the strain on your hair and help it recover. If you want to color your hair, try using natural ingredients, such as lemon juice, carrot juice, or sage, instead of the dyes that you typically find in stores or hair salons.
5. Exercise to Reduce Stress
Stress is often a contributing factor to hair loss, and exercising more to keep your stress levels in check may help you maintain a fuller head of hair. Exercise often works well at reducing stress by increasing endorphins and steering the mind clear of negative thoughts. Working out can also help combat hair loss by increasing blood flow to the scalp.
Yoga is known to be one of the best stress-reducing exercises, and doing poses like the downward-facing dog or child's pose may put you into a calmer state of mind. Going out for a nice walk or jog may also help you keep your stress and hair loss in check.
In Conclusion
Premature hair loss isn't always inevitable. By taking a proactive approach to prevent or reduce hair loss, you can possibly beat hair loss and maintain a fuller head of hair throughout your life.