Last Updated on March 16, 2023 by
Introduction
A good jacket or coat is the secret to pulling off a good all-weather outfit. You can easily tell the difference between a quality piece and a tacky cover up. Making an informed decision by knowing the different types of jackets and coats is a good first step on that complicated road into making sure everything fits well together from head to toe.
The basic jacket types are as follows: single-breasted, double-breasted, and varsity.
Single-Breasted Jackets
A slim fit single breasted jacket is a handsome choice for any man's wardrobe
Best suited to leaner men
Shorter in length than Double Breasted jackets, but slimmer fitting
Styles which feature 2 or 3 buttons are favored by most men looking for formal wear; 4 button jackets more casual and ideal for winter.
Double-Breasted Jackets
A winter double breasted jacket can be worn equally well indoors or outdoors
Styles vary from traditional to contemporary, ensuring there is a fit for everyone's taste
Comes in classic black or navy but diverse color palettes ensure this type of long coat will never get old
Shield your neck against the cold with one of many styles featuring scarves that wrap around multiple times. The scarf often doubles up as a pocket, which is the perfect space for holding tools, pens, phones etc. while out in town on errands. Both lightweight and warm, they are easy to carry in storage during warmer weather when you don't need them.
Varsity Jackets
A Varsity Jacket is a semi-fitted style with a full lining
Comes in wool, cotton, and leather; each of which has its own unique advantages
Suitable for casual wear or attending sporting events; ideal for cooler weather
It ranges from simple quilted styles to more complex designs featuring bold prints and multiple zippers.
Different Types of jackets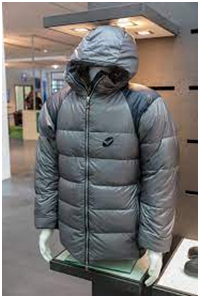 There are different types of jackets that are used in daily life routine. Some of them are listed below:
Denim jacket
Denim jackets are the new leather jackets. They go with just about anything, and they're super layered-up worthy. Before leather jackets were all over runways and stores, denim was the "it" fabric that you had to have for your wardrobe essentials. And while you can still find denim on some of our favorite fall goods, it's not nearly as common this time around.
Windbreaker Jacket
Windbreaker Jacket typically worn on the upper body and made from a lightweight water-resistant fabric such as nylon or polyester. The jacket typically protects against light wind and rain.
It can be worn over a T-shirt or a shirt to combine both a top and pants into an outfit. Preventing inner layers from getting wet by stopping air flow between them is possible with the use of zippers underarm vents on some jackets, while more breathable materials can reduce heat buildup in warmer conditions.
Whether it's used for hiking, running or casual wear, they are designed to keep you dry even in wet weather conditions without having too much bulk added – which makes them perfect as cycling jackets as well. A windbreaker jacket is a type of waterproof shell worn for protection from the elements, most notably rain and/or wind, because it has a water resistant outer layer to repel moisture and wick away any dampness or sweat built up under layers.
Windbreak VS Waterproof
To be clear, "windbreaker" and "waterproof" aren't synonymous (although some windbreakers can be waterproof too). Windbreaker jackets do not completely enclose the wearer; they leave the waist and lower torso exposed to allow free movement. Jackets that are truly 100% waterproof will often have taped seams in addition to an integrated hood with a drawstring closure at the neck along with Velcro wrist closures.
Read More: What is sewing machine? How machine works? How to thread sewing machine brother?
Stuff and style
Windbreaker jackets are generally made from polyester, nylon, cotton and/or wool and constructed of a 3-layer design: an interior lining is sandwiched between two layers of fabric such as cotton with a high thread count weave to provide stability. Recognizable by its high collar, this type of jacket was initially worn by the clergy.
Over the years it became known as a biker jacket because it started to be worn primarily by motorcyclists, who were especially popular in the sixties. During that time it also went through some technical changes and became more tailored and less bulky. Since then leather jackets have been adopted for and probably become most commonly known as a staple wardrobe item for bad boys and rebels in movies and music videos.
Leather Jackets
Today leather jackets are almost exclusively associated with men but there has been resurgence recently in women's options, including cropped styles ideal for layering over dresses or skirts. Leather jackets come in all price ranges, so there's something for every budget. Leather jackets are 100% investment pieces.
Bomber Jacket
The nylon option is a classic, no-fuss jacket that's not going to break the bank. Other common materials include cotton and suede, both popular options depending on what you plan to used it for.
The bomber is a popular choice amongst street wear circles due to its association with hip-hop culture through brands such as A Bathing Ape and 424. In recent years the bomber has been worn by all sorts of celebrities.
Coach Jacket
Coach jacket is a type of men's waist-length casual jacket which generally has a plaid pattern and is made of heavyweight wool, cotton, or nylon. In British English this garment may be called an "officer's greatcoat" if it has a double-breasted fastening and a belted back or simply a "greatcoat" if it does not.
Parkas
Parkas are typically made from nylon or polyester materials which make them water resistant but not waterproof. Due to their thick insulating fabrics and hoods they can be pretty warm which makes them the perfect choice for the winter months when you need all the warmth you can get.
As these jackets are generally quite heavy, we wouldn't recommend wearing them when temperatures exceed 20 degrees Celsius [68 degrees Fahrenheit] as it will probably just hold in your body heat and make you sweat.
Trench Coat
Trench coats are one of the most recognized outerwear items in modern fashion. These types of coats are often worn by men even in casual situations, especially during wintertime where they can be used to keep out cold weather while still looking stylish and presentable.
Trench coats were originally designed for use in combat during World War One, with many soldiers usually wearing them or at least having them handy when on duty. As trench coats became more popular outside of the army they developed into all types of styles for both genders, not just their original ones that were commissioned by the military.
Anorak or Pullover
The anorak or pullover as it is sometimes called, is a great all round jacket for the wet days and warm climates. Anoraks usually have an integrated adjustable hood and zipper pockets to keep your valuables dry.
Anoraks are good options for people looking for functional and casual coats. The hood provides a great option for the wet weather and the pockets provide a place to store your phone or keys. You can often find stretch in these areas of the coat, which allows you to move freely without any annoying restrictions.
What kind of jacket offers the most warmth?
When it comes to staying warm in cold weather, choosing the right jacket is key. While there are many types of jackets to choose from, not all are created equal regarding warmth. The jacket that offers the most warmth is a down jacket.
Down jackets are made from geese or ducks' soft, fluffy undercoating. The down is extremely warm and lightweight, which makes it perfect for keeping you warm in cold temperatures. Down jackets are also highly compressible, so they can be packed down small for easy storage and transportation.
When choosing a down jacket, it's important to look for a high fill power. Fill power is a measure of the down's loft or fluffiness, and the higher the fill power, the more warm air the jacket can trap. A high-fill power-down jacket will provide maximum warmth while remaining lightweight and compressible.
It's also important to look for a jacket with good insulation, which will help to retain body heat. The best down jackets have a combination of down and synthetic insulation, which helps to prevent heat loss and provides extra warmth in the most critical areas of the body.
A high-quality down jacket is best for those looking for maximum warmth in cold temperatures. With their lightweight, compressible design and excellent insulation, down jackets are the perfect choice for staying warm and comfortable in even the coldest weather conditions.
The Orion Parka has undergone testing in the Svalbard snow fields, on polar expeditions, and with liquid nitrogen blasts at -321F. The warmest jacket in existence is the Orion Parka.
Frequently Asked Questions
Which jacket is best to wear?
It depends on the situation, where you want to go etc. People wear different jackets on different occasion.
Which type of jacket is best in winter season?
In winter season it is best to wear trench coat.