Last Updated on November 30, 2022 by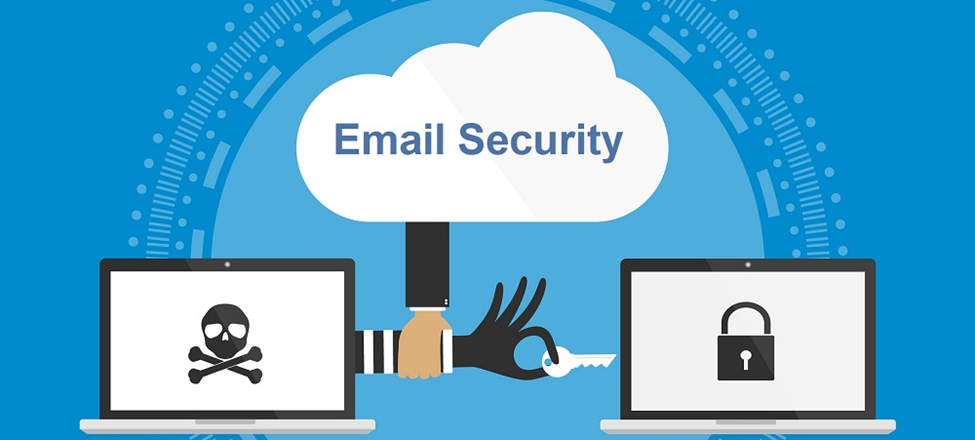 Email is a popular mode of communication that frequently provides important information. We, on the other hand, hardly pay attention to its safety. It's easy to think, That'll never happen to me when it comes to cyber-attack.
On the other hand, the data shows otherwise when you see the numbers. Small enterprises are being attacked in ways they have never been before, and email is frequently the preferred method of communication. If you don't have a plan to protect your email, you're asking for trouble.
Many companies use firewalls and other security measures to block emails with inappropriate content, such as malicious links and attachments. These systems, however, cannot be depended upon to block everything due to the changing nature of threats.
Hackers and spammers can break into your email without a password and steal your crucial and necessary information. They can also damage your device. Hence, it is necessary to boost your email security to keep your emails and attachments safe and secure.
The Need For Best Email Security
If you're not familiar with the dangers of email that your company is likely to face, now is the time to learn about them. Threats to email security abound, and your company isn't immune, no matter how tiny. Cybercriminals are significantly more likely to target business users than individual email accounts.
The rationale is obvious, infecting corporate systems with malware yields greater benefits than infecting home PCs, according to SpamTitan. When ransomware encrypts data, businesses are significantly more willing to pay Ransomes. Company data has a far higher value on the darknet, and robbing commercial accounts yields much higher rewards.
Enterprises are more likely to get phasing emails and are more likely to be targeted with malware-infected messages, according to the SpamTitan. Schools, government agencies, and MNCs are among the sectors with bullseyes on their backsides.
Forms of Email Attacks
Email attacks can take many different shapes and forms. Your company or device could suffer any following hazards, depending on what information is being hacked. Let's see some of the forms which can cause email insecurity:
1. Phishing:
Phishing is a prevalent attack tactic. The attacker impersonates someone they aren't, usually a business partner or a bank account, and obtains personal information such as usernames and passwords. The attackers can acquire entry to the accounts by using this details.
2. DDoS:
DDoS assaults also called distributed denial of service attacks, propagate malicious software that allows someone to manipulate infected systems and crash servers remotely.
3. Malicious Codes:
When downloading attachments, there's always the possibility that dangerous code has been embedded. This harmful malware, normally camouflaged as secure code, can provide unofficial access to your computer or device.
4. Insider threats:
Don't rule out the potential that email threats are coming from within your organization. Disgruntled employees will often resort to drastic measures, such as internal sabotage.
5. Human Error:
Human mistake is a significant contributor to issues. Employees may inadvertently release sensitive information in email messages, which can be quite costly.
What Are Some Tips for Identifying Email Threats?
Any communication demanding payment should be avoided first and foremost. If the business email looks from a respected entity, like banking institutions, Companies, etc., double-check that the email address is correct with the company. You shouldn't trust an inbound email that looks to be from an arbitrary address or unknown sources.
As a general rule, the most typical ways for scammers and hackers to steal your money are transferring money or paying with bitcoin; therefore, you should be cautious about utilizing the methods of payments for any transaction. Of course, you should never view attachments from unknown sources.
Pay attention to the spelling and punctuation as well. Often, the messaging in these scam emails is subpar, which is a red flag that the email is dangerous. Email correspondence that requests login credentials and other sensitive personal information is almost always fraudulent.
Best Ways To Increase Secure Your Email Security
Your company and device are vulnerable to a variety of email threats. Ignoring them will not help you. It would help if you were driven and took steps to reduce risk. Here are some helpful tips:
1. Use an Encryption Service:
In today's cyber security scenario, you must employ some encryption solution. Encryption software is available in various formats. There are several types of encryption, but data-centric encryption appears to be less hazardous than other types of encryption.
When you utilize data-centric encryption, you don't have to rely on a bunch of untrustworthy servers to keep you safe. Virtu Argues that even if a digital predator seizes it, they won't be able to read it. It considerably diminishes the possibilities of a successful attack.
2. Use Separate Email Accounts:
Consider your email account the first domino in a long chain of hundreds of others. If the first domino is compromised, the remainder of the dominoes will fall. When an email account is hacked, it's best to utilize separate email accounts for different purposes to avoid having hundreds of dominoes tumble over.
You should, for example, have one email account for all of your social media alerts and website accounts and a different email for your financial details and notification. This may make things a little more difficult for you, but it drastically minimizes the chances of security breaches.
3. Be wary of Clicking Unknown Links:
Never click on an unfamiliar link in an email, especially if it comes from a source you don't recognize. Hackers like to disguise dangerous links as something else to compromise a recipient's computer system.
Attachments are the same way. Before downloading them, you must confirm the attachments if you don't recognize them or aren't sure why it was sent. However, we suggest avoiding clicking or downloading any emails from unknown sources.
4. Use Strong Passwords:
Hackers utilize usernames and passwords to access email accounts, believe it or not. If you can create your password so difficult that a human or a password generator can't quickly guess, you'll have a considerably lower risk of being hacked.
Passwords should be complicated, and you should use a separate one for each account. It's better to use a password manager tool to avoid forgetting your login information.
5. Set up Email Security Protocols:
Email security rules effectively provide firms with more tools to keep hackers at bay, lessening the chances that employees will be challenged with the issue in the first place. It's vital to plan, and the correct technique can be a very effective method.
Criminals won't be able to use firm names at will, and hackers won't be able to develop a clever subject line to lure people into solving the puzzle thanks to these rules. There are three widely used email security protocols they are listed below:
Sender Policy Framework (SPF):
looks for fake emails and prohibits them. It's an open-source validation that identifies and verifies the sender's origins to reduce the amount of potentially harmful messages.
DomainKeys Identified Mail (DKIM):
Another TXT record email protocol uses public-key cryptography to verify a domain name. Using public and private keys sets, the email servers and conversations are verified.
Domain-Based Message Authentication (DMARC):
It's a framework that brings together SPF and DKIM. It decides whether the recipients see the same domain as the sender when receiving the message.
Conclusion
Email security is really important. Even if you haven't been hacked yet, there will be a time when you are. You risk losing vital information or irreparably harming your business if you do nothing. Now is the moment to stand up and begin a more efficient operation to secure your email.
If you want to increase your email security, go through this article, we have listed some of the most useful and working tips and tactics on how to increase your email security. Following these tips, you can secure your email more efficiently and ensure the safety of your device and organizational data.