Last Updated on October 14, 2022 by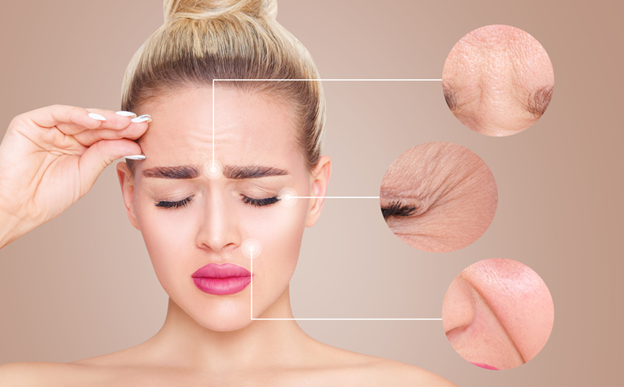 Getting older comes with a lot of benefits. As we age, we gain more life experience and wisdom, along with a better sense of who we are.
But there are certainly some downsides to aging too. One of the biggest ones is a noticeable change in the appearance and texture of your skin. You might have noticed that your skin has gotten wrinkled with age. That's something you might not appreciate. It's normal to see changes in your skin as your collagen levels begin to diminish.
Luckily, there are lots of great, effective ways to get back your more youthful-looking skin. If you're wondering what these methods are, try some of the following tips, including checking out the best anti-wrinkle creams available on the market.
8 Effective Home Remedies to Get Rid of Wrinkles
Protect Your Skin –
One of the best ways to help get rid of wrinkles and other signs of aging is by preventing them from showing up in the first place. That's why it's so important to provide your skin with proper protection. One of the best ways to do this is by keeping your skin safe from the sun.
The sun's UV rays can cause a lot of damage to your skin and make it age prematurely. Make sure that you are always applying sunscreen, even in the winter or on days where it's cloudy out. The UV rays from the sun can still penetrate your skin in these circumstances, so you need to work to keep it safe.
Coconut oil is just useful for cooking! It also has a ton of health benefits, including when you apply it to your skin.
One of the reasons why wrinkles may show up prematurely is because your skin isn't properly hydrated. Coconut oil is known for its ability to hydrate skin.
Try massaging coconut oil all over your face. You'll be surprised by the difference it makes to the way your skin looks as well as the way that it feels. As a bonus, coconut oil smells great!
Another thing you can try for your wrinkles is applying argan oil.
Argan oil is oil that comes from the kernels of argan trees. These trees are native to Morocco. There are many benefits to argan oil, so you might want to make this a regular part of your skincare routine.
One of the major benefits of using argan oil is that you can use it to help get rid of any wrinkles that might be forming on your face. Apply some oil to the areas you're concerned about and massage it in gently. Do this once or twice a day—in the morning and in the evening before bed.
Part of your overall general health includes making sure that you're getting enough sleep at night. Most experts recommend getting around 6 to 8 hours of sleep.
If you don't get enough sleep, your skin will be affected. You might also find it hard to focus or perform physical activity.
That's why you'll always find getting enough sleep as part of the advice on Health Web Magazine! Sleeping enough can also help prevent any wrinkles from showing up on your face.
Yogurt is full of lactic acid, which can help to firm skin and keep it wrinkle-free. It's also really good for your gut and has plenty of health benefits.
You can make your own face mask at home using yogurt and lemon juice to help deal with any wrinkles you might have on your face. All you need to do is combine the juice of a lemon with two teaspoons of yogurt. You can also apply vitamin E from a capsule as well as some honey. Apply it evenly to your face and let it dry. Once around 15 minutes pass, you can wash it off with cold water.
Use An Anti-Wrinkle Cream –
There are a lot of great anti-wrinkle creams available on the market. You might want to look into something like Lavalier Skin Care if you're looking for something to help reduce any wrinkles you might have. Try looking up Lavelier Skin Care reviews to see if this product might be right for you.
If you have any concerns, you can also talk to your dermatologist about products like this, to see what might work best for your skin. So check out Lavelier Skin Care reviews to see if this might be the right product for you.
As you might have noticed by checking out Health Web Magazine, apple cider vinegar has a lot of health benefits.
One thing you might want to try if you're looking to get rid of wrinkles is an apple cider vinegar mask. Mix 1 tablespoon of apple cider vinegar with 1 tablespoon of honey. Apply this mixture to your face and neck, and let it sit for around 15 to 20 minutes. Rinse it off with cold water and apply a moisturizer after.
Have a recipe that only calls for egg yolk? Don't throw away the egg whites!
Egg whites can be super beneficial for your skin. You can even make your own mask with them. All you need to do is whisk the egg white and apply it to your skin. Leave it on until it's dried completely, then rinse it off gently and moisturize. You can apply this mask around twice a week for the best results.
Conclusion
It's natural to see changes to the texture and appearance of your skin as you get older. But you may not appreciate many of these changes. Luckily, there are ways to both prevent and treat wrinkles that might be forming on your face, including using the best anti-wrinkle creams available. Try them out and enjoy younger, healthier-looking skin!